The Tim Ferriss Show PODCAST

PEDESTRIAN & BICYCLIST RISK INDICATORS WEBINAR
The FHWA Office of Safety recently published the Guide for Scalable Risk Assessment Methods for Pedestrians and Bicyclists (Report No. FHWA-SA-18-032), which details risk assessment and exposure estimation approaches at several different geographic scales. This webinar will provide an overview of these scalable risk assessment methods for pedestrians and bicyclists. REPOST BY TERENCE MORRIS AUTHOR, AND FOUNDER PACE TULSA AGS FOUNDATION. MAR. 19, 2019. Join PACE TULSA NOW…TEXT: PACEPAC TO: 22828 OR Register | Lost your password?.
Guide for Scalable Risk Assessment Methods for Pedestrians and Bicyclists
Printable Version, [PDF, 6.64 MB]
Publication No. FHWA-SA-18-032
July 2018
SUMMARY
This guide describes scalable risk assessment methods for pedestrians and bicyclists, wherein risk is a measure of the probability of a crash to occur given exposure to potential crash events. This guide:
Outlines eight sequential steps to develop risk values at various desired geographic scales.

Describes the scope and nature of each step, including any guiding principles.

Provides information on analytic methods to estimate pedestrian and bicyclist exposure.

Identifies other relevant guides and resources that provide supplemental information.
Motivation for the Guide
Many transportation agencies are placing more emphasis on improving pedestrian and bicyclist safety and reducing the risk of a fatality or serious injury to pedestrians and bicyclists. Practitioners need a methodical approach to assess pedestrian and bicyclist risk for the purposes of identifying high-priority areas and transportation facilities for safety improvement, evaluating specific countermeasures and locations before and after improvements are made, and tracking safety performance measures over time to gauge progress toward established goals. The motivation for this guide is to provide this methodical approach for assessing pedestrian and bicyclist risk for these and other applications.
Exposure to risk is an integral element of risk, and as such, an integral element of risk assessment methods in this guide. Exposure is a measure of the number of potential opportunities for a crash to occur, and is often directly related to the number of people who walk and bike. In the past, exposure has seldom been included in pedestrian and bicyclist safety analysis because of the practical challenges of collecting or estimating exposure data. Another motivation for this guide is to outline feasible methods to calculate or estimate exposure, such that exposure will be included more often in pedestrian and bicyclist risk assessment.
Intended Audience
The main audience for this guide is practitioners who want to assess pedestrian and bicyclist risk. Some elements of the risk assessment methods in this guide are straightforward and should not pose significant difficulty for most practitioners, such as tabulating observed crashes from existing databases or collecting counts of pedestrians and bicyclists. Some analytic methods in this guide are more complex and may require specialized knowledge and skills, such as estimating expected crashes or estimating pedestrian and bicyclist exposure using a travel demand model. However, the process for assessing pedestrian and bicyclist risk in this guide provides flexibility, such that practitioners may select simpler methods that are consistent with their analysis capabilities and resources.
This webinar will provide an overview of these scalable risk assessment methods for pedestrians and bicyclists. Exposure is an integral element of risk, and the webinar will outline and describe three basic exposure estimation approaches for pedestrians and bicyclists: 1) site counts; 2) travel demand estimation models (several different types); and, 3) travel surveys. Panelists from the Texas A&M Transportation Institute, University of Michigan Transportation Research Institute (UMTRI) and the Federal Highway Administration (FHWA) will share the new guidance and spend time responding to discussion questions from attendees.
This webinar was supported by the Federal Highway Administration's Office of Safety through a national program to provide training and technical assistance to the FHWA-designated Pedestrian and Bicyclist Safety Focus Cities and States.
Panelists
Tamara Redmon, FHWA Office of Safety
Shawn Turner, Texas A&M Transportation Institute
Ipek Sener, Texas A&M Transportation Institute
Michael Martin, Texas A&M Transportation Institute
Robert Hampshire, University of Michigan Transportation Research Institute
Webinar Resources
Presentation Materials (PDF)
Areawide Nonmotorized Exposure Tool (XLSM)
Video Recording (MP4)

What is community policing?
"From the police perspective, it comes down to this: For us, it means working with our community to solve their quality-of-life issues that relate to crime or the fear of the crime."— Deputy Chief Jonathan Brooks
Read the Tulsa Commission on Community Policing Executive Summary
"We recognized we could use that report and its recommendations for local policing as a foundational document, but we really needed to bring all these different groups in Tulsa together and help us define what community policing looks like here," Bynum says.
After several months, the commission had developed six pillars:
Building trust and legitimacy

Policy and oversight

Technology and social media

Community policing and crime reduction

Training and education

Officer wellness and safety
At 92, Robert LaFortune can still be found officiating from the Phil tower building.
The LaFortune family name represents a prominent era of growth and development for Tulsa, thanks in part to its 92-year-old patriarch and lifelong resident Robert (Bob) LaFortune.
Robert LaFortune, Former Mayor of Tulsa
Tulsa civic leader and oilman Robert LaFortune was born at St. John Medical Center in Tulsa, January 24, 1927. In 1920, his father Joseph Aloysius LaFortune and his mother Gertrude Leona Tremel LaFortune, had moved to Tulsa from South Bend, Indiana. Joseph LaFortune worked for Warren Petroleum Company for approximately 30 years, retiring as executive vice president. Before and after retirement, he maintained a significant community presence and funded the development of LaFortune Park in Tulsa. Among his many gifts to the University of Notre Dame, he donated funds to renovate the Science Hall into the school's first student center.
Robert (Bob) LaFortune served as Tulsa's commissioner of streets and public property (1964–70) and as mayor (1970–78). As commissioner, he participated in the development of the Port of Catoosa through purchasing land for the port and working with engineers on its design. As mayor, he played a significant role in developing Tulsa's freeway system and securing public-private funding for construction of the city's Performing Arts Center.
Among his service to many executive boards, LaFortune has been a member of the National Executive Board of the Boy Scouts of America. He was a 1982 recipient of the Silver Buffalo Award from the Boy Scouts of America.
Robert LaFortune and his wife Jeanne Morse LaFortune, a native Tulsan, raised six children, Suzanne Bynum, Kathleen Phoenix, Annette Murray, Robert J. LaFortune, Jr., John M. LaFortune, and Phillip T. LaFortune.
BY ANNE BROCKMAN. Four designers take on the 2019 Blank Slate challenge: "Blue Tulsa," an embellished print on canvas by Tulsa artist Derek Penix.
Derek Penix is a Tulsa artist whose art has earned him numerous accolades and awards over his years of painting, including the 2016 Gold Medal Award from Oil Painters of America's 25th National Juried Exhibition.
On Feb. 28 and March 1, Royce Myers Gallery will host receptions for Penix's first one-man show in Tulsa. Through April at the SoBo District gallery, approximately 30 pieces of Penix's work will be on display and for sale, including new works from his cityscape series.

COPYRIGHT© 2019 | PACE TULSA AGS FOUNDATION. "Pedestrian Awareness Crosswalk Education is an online think-tank intersecting awareness of public transportation policy in the United States."
20 Epic Times Celebrities Threw Shade Before The Age of Social Media
We didn't always have Comments by Celebs, ya know.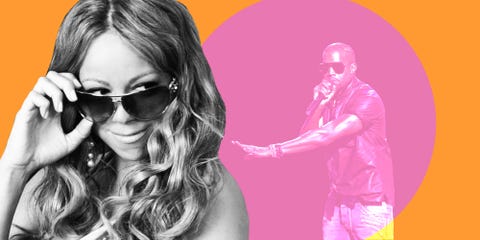 Not to get all grandpa on you, but social media has really put a damper on the way that celebrities feud with one another. Now, all a star has to do is pour some emoji into an Instagram comment or Like a tweet to "clap back." To make it worse, fans are really out here claiming that their problematic faves are ending one another with the push of a button. I just feel like we can do so much better.
Before social media was our favorite way to spill tea, celebrities had to do it much more publicly. TBH, it's just such an adrenaline rush to watch a celeb say something bitchy in front of a live studio audience. Here are 20 times celebrities epically threw shade before the golden age of social media.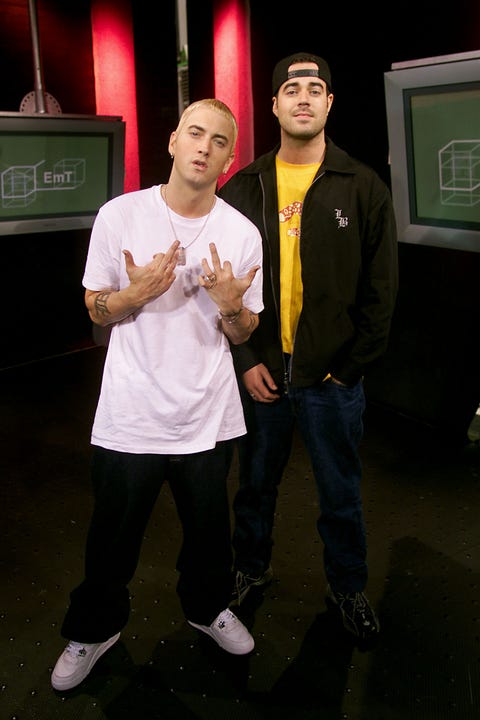 Eminem Calls Britney Spears, *NSYNC and Backstreet Boys 'Trash'
To promote
The Marshall Mathers LP
in 2000, MTV became "Em-TV" and
Eminem hosted
TRL.
Instead of announcing the top 10 viewer-voted music videos of the day, Eminem just played whichever songs he wanted to. He threw a
lot
of shade in the two-hour special, but the peak was probably when he called Backstreet Boys, Britney Spears, and *NSYNC "trash."
Literally Just Everything Paris Hilton Has Said About Kim Kardashian
Before
Keeping Up With the Kardashians
took over all of our lives, Kim Kardashian kept Paris Hilton's
closet in tip-top shape
. Paris will never, ever
let us forget it
. Even Nicole Richie has been know to refer to Kim as "the girl who used to clean and organize Paris Hilton's closet." Gotta stay humble!
Christina Aguilera Tears Apart Britney's Engagement Ring
In 2004, Christina Aguilera held nothing back in an
Us Weekly interview
. "I know Britney. She's not trailer trash, but she sure acts that way," the pop singer said.
She also had some THOUGHTS about Britney's wedding to Kevin Federline and said, "I can't believe that girl bought her own engagement ring! I've seen it up close. It looks like she got it on QVC." Uh, yikes.
Will Smith Spills the Original Aunt Viv Tea
When the original Aunt Viv from
The Fresh Prince of Bel Air
, Janet Hubert, was fired and replaced in 1993, she blamed Will Smith. The Fresh Prince was not having any of it and flipped the script on a local radio show in Atlanta.
"I can say straight up that Janet Hubert wanted the show to be The Aunt Viv of Bel Air Show because I know she is going to dog me in the press. She said once, 'I've been in the business for 10 years and this snotty-nosed punk comes along and gets a show.'"
Hilary Duff Steals Lindsay Lohan's Boyfriend Aaron Carter
There was some beef between Lindsay Lohan and Hilary Duff when LiLo claimed that Hilz stole her boyfriend, Aaron Carter. In an 2008
interview with Allure
, Hilary denied accusations that she was a "boyfriend stealer," while throwing a little shade at Lindsay in the same breath.
"Supposedly, I stole Lindsay Lohan's boyfriend. We were like 13! I've never stolen anyone's boyfriend! I don't know how you do that! She was talking about it and I wasn't. It made us both look bad and put up a big weirdness. Really she was just a girl my age. We are fine now, by the way."
Katherine Heigl Says Thank U, Next to the Emmys
In 2008, Katherine Heigl
asked to be excluded from Emmy consideration
because she felt that she wasn't given award-worthy material to work with in her role as Izzie Stevens on
Grey's Anatomy
. File this under "shade that literally nobody asked for."
JASON MERRITT
GETTY IMAGES
Prince Takes a Dig at Justin Timberlake
Prince was the king of throwing shade. One of his most playful (read: least wig-snatchy) moments was when
he yelled
"For whoever is claiming that they are bringing sexy back, sexy never left!" at a crowd during a performance in 2006.
Poor JT never stood a chance.
STEPHEN SHUGERMAN
GETTY IMAGES
Mary-Kate Olsen Stops Talking to Paris Hilton
In an interview with
W Magazine
, Mary-Kate Olsen revealed that she was pretty pissed at Paris Hilton. MK's ex, Stavros Niarchos III dumped her and then immediately started dating Paris.
"[Paris and I] always only had nice things to say about each other. Now, I guess you can tell we're not talking."
Ah, the good ol' "if you have nothing nice to say, don't say anything at all."
Shia LaBeouf Flexes on Frankie Muniz
LOL, here's a throwback. Remember when Shia LaBeouf and Frankie Muniz were like, the It guys? If you don't, it was, like, a brief minute in 2003. You didn't miss much. BUT you did miss a 17-year-old Shia throwing some shade at Frankie in an interview with
Entertainment Weekly
.
"I used to see him at premieres and stuff and it would always be like he was looking down on me. And then it turned into we're equal and then it turned into 'Oh, Frankie? I know that guy.'"